The Cleveland Medal
"Cometh the Hour, Cometh the Man? Joe Kelly and the Cleveland Medal"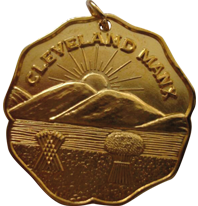 This year sees the 88th Gold Medal reaching the Isle of Man from the Cleveland Manx Society to form the most prestigious prize in this Festival and in the Island's musical life. What were the origins of this unique and enduring link between the Isle of Man and Cleveland - the city once famed as 'home from home' for Manx emigrants where they could even find their native language spoken? More than 90 years have passed since the Guild Committee expressed " their thanks to the Manx Societies of Cleveland (U.S.A.) for their kind thought and interest in the Festival and … their handsome gift of £100, which has been invested for the purpose of producing this annual prize".
One local family has retained a memory of their kinsman, J. J. (Joe) Kelly "a true Manxman if there ever was one in the United States" which credits him with a decisive role in inaugurating the Medal. Joseph James Kelly, builder of Cleveland, Ohio, President of the Mona's Relief Society and Cleveland Manx Society. Born at Ballagick, Santon. Emigrated circa 1907 Died 1930. Douglas.
Research has confirmed the Kelly connection with the Cleveland Medal; in 1938, the memory was recalled of the "momentous day … in the summer of 1922, [when] Joe Kelly and Edward Callister (Kenaa) as representatives from Cleveland, conferred with Willie Craine … when he suggested something personally to be won outright each year, say, … a Gold Medal. That is worth recording as history." Joe Kelly's obituary notice confirmed that he was "largely instrumental in establishing the famous Cleveland Medal".
While Joe was unmarried, his sisters' descendants are still to be found on the Island. His closest kin are members of the Allen and Quiggin families. It is hoped that an article providing much more detail of the origin of the Cleveland Medal will appear in a future issue of Fraueyn as Banglaneyn, the Journal of the Isle of Man Family History Society. NGC.
Perhaps the one thing that has done more than any other to show our interest in the Island is the "Cleveland Medal".
For the Cleveland Manx Society, the opportunity of giving the medal has provided a link … with their "homeland". As for those within the festival, the Cleveland Manx are provided with a sense of heritage.
Alice Cannell, President, Cleveland Manx Society
A fuller version of the history of the Cleveland Medal can be found in the downloads section.